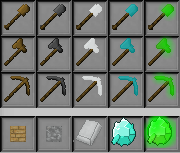 SkyMine : Mine like never before
New Items!
I am glad to introduce brand new features in skymine to public!
there are few bugfix:
- bug when creating a world
- bug with skin
- bug with light (there's still few there)
and new Features:
- Items:
- Tools (pickaxe, axe, shovel) with all variant(wood, stone, iron, uranium, kryptonite)
- Sword (all variant, curently have no use)
- Tree branch - Go GREEN!
- GUI
- HealthBar!
- More Settings!
- Shaders
- improoved performance
- and many more!
sorry i cant upload images currently :( my internet are super slow now, maybe saturday!
Files
SkyMine-Default-1.0.2.5468.exe
4 MB
May 09, 2017
Get SkyMine : Mine like never before